Build ANYWHERE in the state of OKLAHOMA
Want A Custom Home?
Contact our expert team to start planning your custom-made dream home with 10 Percent Down!
Our whole goal and purpose is…
#1 To Say YES!
#2 To Build!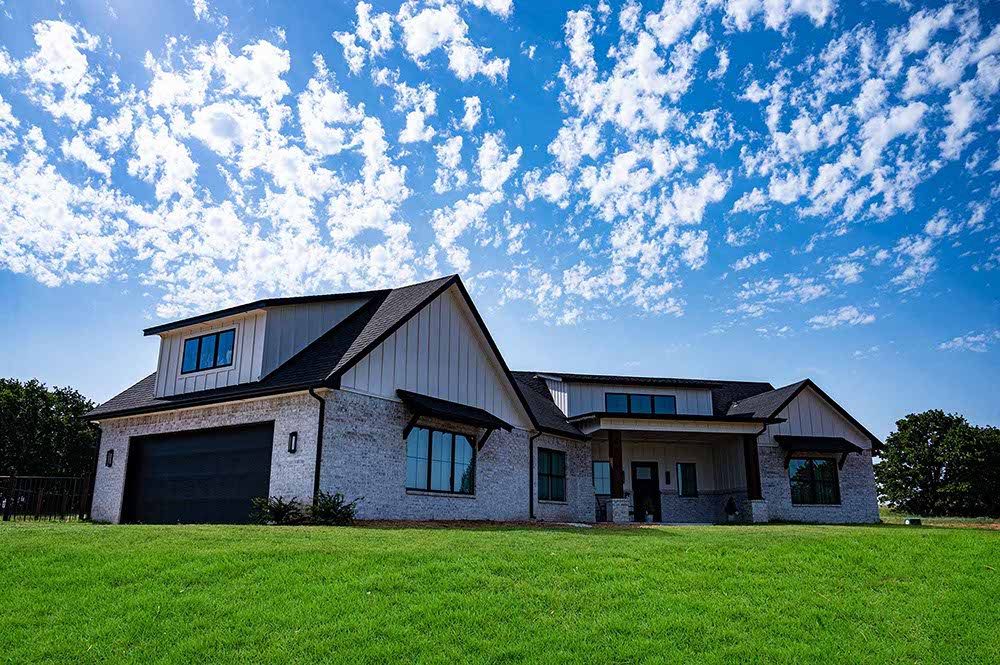 THE BEST HOME, THE LOWEST PRICE
GUARANTEED APPROVAL

At 10 Percent Down, our commitment to you extends well into the life of your home. We are here to help you address issues you may encounter and our 48-hour response time will ensure that your request is taken care of in a timely manner.

HUGE DISCOUNTS! We use our buying power to hire the most experienced craftsmen and purchase the best materials at lower cost than most other residential home builders. Out team ensures that you are getting the best quality work at the best possible price. 10 Percent Down can also work with almost any credit situation. If you own your land with 20% equity, we guarantee financing!

Our team has experience building on all types of Oklahoma terrain so no job is too tough. We have the knowledge and expertise necessary when it comes to dealing with vendors and suppliers. What would you like to see in your dream home? With the help of 10 Percent Down, that dream can become a reality. Do not settle for less! Give us a try today.

Combining the most modern materials, the latest technology, and old world craftsmanship, each time you and your family walk into your home, you will revel in its beauty. With only 10% down, our knowledgeable team will give you the tools that you need to create a home that is unique and timeless.
Ready to Build with a Winner?
Our team is composed of knowledgeable and experienced members that will ensure you are getting the home of your dreams. With a 99% success rate on all credit scores, your dream home is in sight! We are so confident in our ability to provide you with the results you want that we now offer a free planning meeting with one of our expert consultants. If you have your own land and want to view it through the windows of your new custom home, call 10 Percent Down today!

Thanks to seeing a Facebook ad by TenPercentDown, we found out that we could have a REAL home on our land and not just a mobile home like we thought! WOW!
Meridith Willis
Choctaw, OK

We always dreamed of building on the family land but wanted our house and not a kit, modular, or mobile but we are so far out in the country, we didn't know who could help us – let alone provide the financing. THANKS TEN PERCENT DOWN!
Dakota Wilson
Noble, OK

For certain legal reasons we can't get traditional financing, let alone a construction loan but we both work hard and make good money. Why shouldn't we be able to build our family's dream home? Well, thanks to TenPercentDown, we DID! And we love it!
Stuart Westover
Oklahoma City, OK

I had the land and the cash but not the provable income….now I own my own custom home!
Christina Dale
Ponca City, OK

Between tax issues and some medical bills, we gave up on being able to ever own anything. Now thanks to TenPercentDown's custom home construction financing we have our own home and are paying our way!
Benny Driver
Stilwell, OK

I won't kid you, we didn't have land. We had to work hard to save up our ten percent but the guys at TenPercentDown worked with us for the whole time it took to save up what we needed. They guided us through design, even helped with cleaning up our credit. By the time we were done, we actually qualified for a low rate government backed traditional mortgage. It's nuts, we have literally gone from nothing to having wealth!
Earl Parker
Skiatook, OK

With our recent credit issues, we thought we were forced to keep renting dumps and throwing our money away. It seemed like a spiral of continued bad news financially….all of our hard work just to pay for someone else's equity. We heard about 10percentdown.com's offer of guaranteed custom home construction financing…..MAN, literal tears when we found out it was for real.
Jon Preston
Jones, OK
Your Next Step:
Request more information or just click the 'Apply Now' button.
One of our staff will reach out and get your questions answered! After that, come by the office. We'll walk through your ideas and goals together.
From there, it's easy! We'll get you with a designer to draw your custom plan, finalize the features of the home, perfect the budget, send it to the bank for appraisal, and close on your construction loan.
There are multiple loan options at the end of construction. We will discuss those and help you prepare to qualify for the very best possible available rate and term options available to you.
So no cost, no obligation. Contact us today for more information and you'll be well on your way to building your dream home!
Office
9591 S Riverside Parkway East Suite L
Tulsa, OK 74137
Hours
M-F: 8:30 am - 5:30 pm
*Approval is subject to a percentage of appraisal value and bank valuation.